The characters in this thread are Iorichan's characters. I am posting them with permission from her.


- CHARACTERS GENERAL STATISICS -

USER NAME: Iorichan

NAME: Cure Melody

ANIME, GAME ETC. YOUR CHARACTER IS BASED ON, OR IS IT MADE UP: Suite Precure
iki
ALTERNATE NAME, NICKNAME OR HUMAN NAME (Optional): Hojo Hibiki

NAME MEANING (Optional):  Northern Echo

GENDER: female

AGE (Optional):  17

BLOOD TYPE (Optional):  A

HERO OR VILLAIN: Hero

OCCUPATION:  Student

ALLIES (Optional):  Cure Rhythm, Cure Beat, Cure Muse, Hummy, Mephisto, Trio Minor, Aphrodite, Various other Pretty Cure - especially Cure Happy

ENEMIES (Optional): Nearly every villain representing the chaos forces


- CHARACTER'S PHYSICAL APPEARANCE IN HERO/SENSHI FORM -

EYE COLOUR: Light Blue

HAIR COLOUR: Pink

HAIR LENGTH (Optional):Very long, done up in twin ponytails

SKIN COLOUR (Optional): pink

NATIONALITY (Optional): Japanese

BIRTHMARKS, TATTOOS, WINGS OR OTHER PHYSICAL ATTRIBUTES (Optional): As Cure Melody, her hair is long and very curly, changing to a bright pink, styled into twin tails and secured with braids. Her eyes are a light and bright shade of blue.

COSTUME:  Cure Melody wears a white headband with a dark pink ribbon. Her costume is a mix of dark pink, light pink and white, featuring lots of ribbons and frills with a bared midriff.  Her sleeves are frilly  and there is a ribbon on the left hip of her skirt. She also wears dark pink thigh-high stockings with white stripes, and dark pink/white shoes with light pink ribbons.

WEAPONS/ITEMS:  Cure Melody uses a henshi device called the Cure Module, which looks like a large multi-jewel broach. When she runs her hand across it...it allows her to transform and take on the form of Cure Melody.  She also has a large rod weapon called the Miracle Belltier  which allows her to do her more advanced attacks.    She is able to lodge it together with Cure Rhythm's rod, Fantastic Belltier, for even more stunning power.


- CHARACTER'S PHYSICAL APPEARANCE IN HUMAN/NORMAL FORM -

EYE COLOUR: Dark Blue

HAIR COLOUR:Orange

HAIR LENGTH (Optional): butt length

SKIN COLOUR (Optional): pink

NATIONALITY (Optional): Japaanese


BIRTHMARKS, TATTOOS, WINGS OR OTHER PHYSICAL ATTRIBUTES (Optional): Hibiki has dark blue eyes and waist-length orange hair, part of which she ties up into twin tails at the top of her head with long pink ribbons.

COSTUME: Hibiki normally dresses in a black dress-like top, with long white sleeves, a pattern of pink hearts on the front, and pink frills at the sleeves and bottom of the dress. She also wears long black leggings and white/pink sports shoes.

WEAPONS/ITEMS/TALISMANS: She only carries the cure module with her, displayed as jewelry.


- CHARACTER'S PHYSICAL & MAGICAL POWERS -

LIST PHYSICAL ATTACKS AND EFFECTS: Hibiki was a bit of a martial arts buff as a human.  As a pretty cure, Hibiki's prowess is taken to a whole new level...she can move faster, fight better and take more hits than she usually can in human form.  She is hard hitting, fast moving and of all her team, she can take the most punishment and still get up.  Even many enemies are shocked by how much damage she can take.

LIST MAGICAL ATTACKS AND EFFECTS:

Musical Rondo - Her basic attack blast done using her Miracle Belltier which also acts as an individual purification attack.

Passionate Harmony - Powerful attack blast that Cure Melody and Cure Rhythm perform together

Miracle Heart Arpeggio - a More powerful version of Musical Rondo that Melody can do with Cure Muse's help.

Music Rondo Super Quartet - Another combined attack she does with Cure Rhythm, where both Belltiers are placed in Crossrod mode and they fire off their blasts together.

Suite Session Ensemble Crescendo Finale - Combined attack by Melody, Ryhthm, Beat and Muse... a powerful combo attack which takes all of their energy..and sends them flying at their foe in one large group bull rush attack.  Only one foe has ever survived this final attack.


LIST PHYSICAL WEAKNESSES:  Without being able to transform, the girls are normal humans, with all the weaknesses that come with that.

LIST MAGICAL WEAKNESSES: None


- CHARACTER'S PERSONALITY -

ATTITUDE TOWARDS OTHERS:  Hibiki is 17 years old, currently a 2nd year student at Private Aria Senior Academy's 6A class. With a music teacher father and violinist mother, Hibiki has an uninhibited personality much like her parents. She is a bright girl and a bit of a klutz, but she hates losing more than anything else. She has a strong sense of justice, and dislikes underhanded tactics. On the other hand, Hibiki succumbs easily to loneliness, and enemies have successfully used her naive and unpretentious nature against her. However, this single-mindedness has allowed her great influence when she brought Ellen and Ako over to the Pretty Cure's side. As a single child, she is envious of Kanade, who has a little brother, and enthusiastically embraced Ako into her circle of friends, even before she knew that she is Cure Muse.

Hibiki loves eating, being especially weak towards sweet things. Before they became Pretty Cure, Hibiki often snuck into the Sweets Club kitchen to steal sweets, making Kanade angry. Her favorite food includes Kanade's family bakery, the Lucky Spoon's, cakes. Although she is outstanding at sports, she loves all kinds of sport too much to settle into one club, preferring to provide aid to any team that needs her help instead. She is not very good at her studies or cooking.


FAVOURITE COLOUR (Optional): Pink

FAVOURITE FOOD (Optional):  Lucky Spoon food, especially stuff made by Kanade, especially stuff Kanade doesn't want her to eat

FAVOURITE SUBJECT (Optional):  Phys ed

LEAST FAVOURITE SUBJECT (Optional):  Home Ec and Math

ANIMAL THAT BEST REPRESENTS HIM/HER (Optional):  Tiger

LIKES (Optional):  food, sports, flirting, food, napping, watching comedies, food

DISLIKES (Optional):  studying, certain types of tofu, bullies

DREAMS/WISH (Optional): to be  a great piano performer

BOYFRIEND/GIRLFRIEND/SECRET CRUSH (Optional): Minamino Kanade (fiance')

HOBBIES (Optional): sports, eating, sleeping


- CHARACTER'S FAMILIAR/GUARDIAN -

NAME OF ANIMAL/CREATURE FRIEND: Hummy

NICKNAME: Hummy
 
PHYSICAL DESCRIPTION: a small pink and white cat with blue eyes..

AGE (Optional): unknown

ATTITUDE TOWARDS OTHERS: friendly and jovial

STORY BEHIND ANIMAL/CREATURE FRIEND: Hummy is a female cat-like Fairy of Songs, and the partner of both Hibiki and Kanade. She was the annual singer of the Melody of Happiness and Best friend of Siren. Hummy was sent to the human world to search for and collect the scattered notes of the Melody of Happiness when she met both Kanade and Hibiki to help her collect these.

LIST PHYSICAL ATTACKS AND EFFECTS:  Hummy is a short kitty.... she's one step up above a stuffed teddy bear in offensiveness

LIST MAGICAL ATTACKS AND EFFECTS:  Hummy's main talent is her singing...but that's only for special ceremonies in the Majorland, she doens't have many of her powers anymore, except to talk to animals, create a temporary forcefield and to annoy the hell out of Hibiki.  She's very skilled at the last power.


- CHARACTER'S FAMILY -

MOTHER'S NAME (Optional): Hojo Maria

FATHER'S NAME (Optional): Hojo Dan

HOME PLANET/COUNTRY (Optional): Earth


- CHARACTER'S HISTORY -

PAST HISTORY:

When Hibiki and Kanade were young, they were best friends and played together all the time. They used to go to an old church to listen to music and sing together.At some point, Hibiki also played a lot of piano, which she had a great talent in. However, she spent little time with her parents, who were busy in their own music work. One day, she and her father were to go to the amusement park, but she was asked by him to play an unexpected concert, which she did without failure. She was excited to go to the park, but her father told her that her music was not real, and that she had to discover the answer by herself. Traumatized, she cried to Kanade and claimed that she would never play music again, never explaining this further to her friend.

Hibiki and Kanade's friendship changed at their school entrance ceremony. Hibiki and Kanade made a promise to go to school together under the cherry blossom trees. After waiting under the cherry blossom trees for Kanade, who never showed up, Hibiki gave up and went to school by herself. Then she saw Kanade hanging out with other people and incorrectly assumed that she completely forgot about their promise. In reality, they had misunderstood each other and waited under different trees.

When Hibiki Went to visit the old church she and Kanade used to play in, she met Ellen, who then transformed back into Siren, who looked into Hibiki's heart and saw her emblem, a G Clef, which she tried to steal. Hibiki ran out of the church, but was blocked by Trio the Minor. They were interrupted by Hummy, who fell from the sky with the Fairy Tones. Kanade, who came to church so she could listen to the record she and Hibiki once enjoyed together, walked in. Siren noticed that she too had a G Clef emblem and attempted to steal the clefs of both girls with Trio the Minor, only to be blown away. Siren then turned Kanade's record, a symbol of Hibiki and Kanade's childhood friendship, into a Negatone, angering both girls and activating their emblems, which became Cure Modules. Hummy told them that they were the legendary warriors, Pretty Cure, and that by transforming they could get the record back. Wishing to turn the record back to normal, Hibiki transforms into Cure Melody, and Kanade into Cure Rhythm.

The newly-established Pretty Cure tried to fight the Negatone, but were unable harmonize and ended up de-transforming. Siren, Trio the Minor and the Negatone left the battle, mocking the girls. Hummy told them about the conflict between Major Land and Minor Land, and that in order to use their powers as Pretty Cure, Hibiki and Kanade had to be in harmony. To Hibiki's disappointment, Kanade left them, saying that she was not suited to be a Pretty Cure, and Hibiki explained the reason why they were no longer friends to Hummy.

The next day, Hibiki and Kanade saw a little girl, crying under the same cherry blossom tree Hibiki waited for Kanade in the past. Kanade led them both to another tree, where the little girl's friend is waiting. Hibiki was then explained to that the same happened to them; Kanade was waiting under another tree, but eventually had to go with some other girls to class. Suddenly, the villains and the Negatone reappeared, and the girls decided to try once more to fight them. Their hearts now in harmony, they managed to defeat the Negatone, return the record, and acquire a scattered note. After the battle, the two girls became determined to protect Kanon Town and collect the scattered notes in order to protect the happiness in people's hearts.

A full length of how this pretty cure team defeated the enemy known only as Noise, would take far too long.  But along the way... they gained two new allies (Cure Muse - who had been Siren - and Cure Beat).  They finally defeated Noise only when Hibiki realised that Noise himself as an entity had developed feelings and emotions - particulartly that of loneliness. As such,  they could never defeat him..because the more he was hurt...the more his pain increased and thus the greater the power he had.  So... she showed him love, pity and forgiveness...and changed him from a power force of rage into a serene force of love.

Since that time, the four friends continued to help other pretty cure in group fights, something that they took pride in.  As they got older, most things stayed the same...but some things did change.    Cure Muse, Akko, eventually began to date Kanade's younger brother. And Kanade and Hibiki took their freindship in a new direction, as girlfriends, and then fiance's.  However, all of this does not change their dedication to help and protect others.
 
GOALS/MISSION:  Become a great pianist like her father, marry Kanade, continue to defend her home land.


- OTHER –


CHARACTER IMAGE LINKS (Optional):

https://i.servimg.com/u/f39/12/32/52/90/hibiki10.png

https://i.servimg.com/u/f39/12/32/52/90/1_pret10.jpg

https://i.servimg.com/u/f39/12/32/52/90/cure_m10.jpg

https://i.servimg.com/u/f39/12/32/52/90/melody10.jpg
Last edited by Ellen Shirabe on Sat Feb 21, 2015 8:21 pm; edited 11 times in total (Reason for editing : Changing Cast list)
-CHARACTERS GENERAL STATISTICS-USER NAME:
Iorichan
NAME:
Cure Beat
ANIME, GAME ETC. YOUR CHARACTER IS BASED ON, OR IS IT MADE UP:
Suite Precure
ALTERNATE NAME, NICKNAME OR HUMAN NAME (Optional):
Kurokawa Ellen / Siren
NAME MEANING (Optional):
Siren - Siren is a reference to Greek myth, specifically the Odyssey where a group of beautiful Mermaids called the "Sirens" would sing to lure sailors to their deaths by making them crash their boat into the rocky shores of their island.;  Kurakawa Ellen - The name Kurokawa has two terms. Kuro means black in Japanese, which fits Siren's theme color while Kawa means river. Her name can be roughly translated as Black River.  Ellen, which is an English variation of Helen, means "bright, shining one."  Hence her name means, "black river shining one."
GENDER:
female
AGE (Optional):
17
BLOOD TYPE (Optional):
AB
HERO OR VILLAIN:
Hero
OCCUPATION:
Student, Singer
ALLIES (Optional):
Cure Melody, Cure Rhytm, Cure Muse, Hummy, Mephisto, Trio Minor, Aphrodite, Various other Pretty Cure - especially Cure Ace and Cure Passion.
ENEMIES (Optional):
Nearly every villain representing the chaos forces
- CHARACTER'S PHYSICAL APPEARANCE IN HERO/SENSHI FORM -EYE COLOUR:
Golden
HAIR COLOUR:
Lavender
HAIR LENGTH (Optional):
As Cure Beat, Ellen's hair is wild and long, and is tied to the side with a feathered bow.
SKIN COLOUR (Optional):
pink
NATIONALITY (Optional):
she is a fairy from Major land, but she looks Japanese
COSTUME:
Cure Beat's costume is slightly more elaborate than the Cure Rhythm and Cure Melody, featuring many more frills. Her boots are knee-length and her gloves are wrist-length and fingerless.  She also has purple wings on the back of her outfit adorned with hearts
WEAPONS/ITEMS:
Cure Beat uses a henshin device called the Cure Module, which looks like a large multi-jewel broach. When she runs her hand across it...it allows her to transform and take on the form of Cure Beat. Cure Beat's attack and purification item is the Love Guitar Rod. With the help of Lary, she can perform Beat Barrier and Beat Sonic. With Sory, she modifies her item into "Soul Rod Mode", and can perform purification attack 'Heartful Beat Rock'.
- CHARACTER'S PHYSICAL APPEARANCE IN HUMAN/NORMAL FORM -EYE COLOUR:
Golden
HAIR COLOUR:
Dark Purple
HAIR LENGTH (Optional):
Shoulder length
SKIN COLOUR (Optional):
pink
NATIONALITY (Optional):
She's from Major Land, but she looks Japanese
BIRTHMARKS, TATTOOS, WINGS OR OTHER PHYSICAL ATTRIBUTES (Optional):
Ellen has sharp yellow eyes and an angular face…her eyes almost appear a bit... feline in appearance at times…and she develops a neko type mouth when she smiles mischievously.
COSTUME:
As Ellen, she has mid-length dark purple hair, accessorized with a yellow/golden scrunchie, which ties her hair in a side ponytail on the left side while letting the rest of it down. She wears a long-sleeved light purple shirt with a pattern of pink hearts on the front over a long-sleeved white shirt, a short black waistcoat with a pattern of pink hearts on the left, a short pink heart-shaped pendant, black bracelets on each wrist, a lavender ruffled skirt with a black belt, black stockings and short sand-colored boots.
WEAPONS/ITEMS/TALISMANS:
She only carries the cure module with her, displayed as jewellery.
- CHARACTER'S PHYSICAL & MAGICAL POWERS -LIST PHYSICAL ATTACKS AND EFFECTS:
As a pretty cure, Ellen becomes a very good martial artist and trained fighter...she can move faster, fight better and take more hits than she usually can in human form. She can jump higher and faster than the others and has an incredible sense of balance and flexibility…like a cat.
LIST MAGICAL ATTACKS AND EFFECTS:
Beat Barrier
- The Beat Barrier is a sub-attack of Cure Beat using the fairy tone Lary.  To perform it, Beat uses the Love Guitar Rod in guitar form and introduce Lary in this one; and creates a sphere that protects the persons that are inside of this, apart it can divert projectiles or other attacks from enemies.This prevents enemy attacks from hitting the person inside it. However, sometimes it's easy to break up.
Beat Sonic
– The Beat Sonic  is a secondary attack of Cure Beat. To perform it, Beat creates the Love Guitar Rod in guitar form and uses Lary's power. She strums the heart-shaped piece in the Guitar that has the Suite Pretty Cure♪ Symbol in the center, and creates a circle of light purple notes that spin upward with the bottom part of each note turning into arrowhead-like projectiles.  The notes are then shot up into the sky, striking the target.
Heartful Beat Rock
- Heartful Beat Rock is Cure Beat's first and only purification attack. The attack utilizes the Love Guitar Rod in Soul Rod Mode and her secondary Fairy Tone Sori.  Cure Beat calls upon Sori and lends her power to her. Beat snaps her fingers and summons one note before she grabs it, materializing it into the Love Guitar Rod. Sori goes into the tip of Love Guitar Rod as its power source and strums it. Then she changes the mode of the weapon to Soul Rod Mode. With the wave of the baton, she forms a green Tone Ring, spins it on her rod and shoots it into the Negatone, hitting it directly. As the ring surrounds the Negatone with Purification Energy, Cure Beat waves the Love Guitar Rod in the shape of a triangle before she can jump and say finale. An explosion occurs, purifying the Negatone back into a scattered note.
Suite Session Ensemble Crescendo Finale
- Combined attack by Melody, Ryhthm, Beat and Muse... a powerful combo attack which takes all of their energy..and sends them flying at their foe in one large group bull rush attack. Only one foe has ever survived this final attack.
LIST PHYSICAL WEAKNESSES:
Without being able to transform, the girls are normal humans, with all the weaknesses that come with that.
LIST MAGICAL WEAKNESSES:
None
- CHARACTER'S PERSONALITY -ATTITUDE TOWARDS OTHERS:
Ellen is a very upbeat and cheerful girl. She is kind, but with this kindness also comes a streak of naivete, such as being easily offended or being prone to childish fears. However, she's like the older simple sister who will do anything to make her siblings happy.
FAVOURITE COLOUR (Optional):
Purple
FAVOURITE FOOD (Optional):
Fish and Prawns
FAVOURITE SUBJECT (Optional):
Literature
LEAST FAVOURITE SUBJECT (Optional):
Math
ANIMAL THAT BEST REPRESENTS HIM/HER (Optional):
cat (of course) XD
LIKES (Optional):
Spending time with friends, singing, watching romantic movies, reading poems and love stories, writing love poems, eating, napping, Trio De Minor
DISLIKES (Optional):
being alone, fighting, work, math, Trio De Minor gang-glomping her.
DREAMS/WISH (Optional):
to live her life with her friends…and one day..be a mother
BOYFRIEND/GIRLFRIEND/SECRET CRUSH (Optional):
Furura Melody Shirabe/Cure Harmony (fiancee)
HOBBIES (Optional):
singing, napping, snacking chatting
- CHARACTER'S FAMILIAR/GUARDIAN -NAME OF ANIMAL/CREATURE FRIEND:
Hummy
NICKNAME:
Hummy-chan
PHYSICAL DESCRIPTION:
a small pink and white cat with blue eyes..
AGE (Optional):
unknown
ATTITUDE TOWARDS OTHERS:
friendly and jovial
STORY BEHIND ANIMAL/CREATURE FRIEND:
Hummy is a female cat-like Fairy of Songs, and the partner of both Hibiki and Kanade. She was the annual singer of the Melody of Happiness and Best friend of Siren. Hummy was sent to the human world to search for and collect the scattered notes of the Melody of Happiness when she met both Kanade and Hibiki to help her collect these.
LIST PHYSICAL ATTACKS AND EFFECTS:
Hummy is a short kitty.... she's one step up above a stuffed teddy bear in offensiveness
LIST MAGICAL ATTACKS AND EFFECTS:
Hummy's main talent is her singing...but that's only for special ceremonies in the Majorland, she doens't have many of her powers anymore, except to talk to animals, create a temporary forcefield and to annoy the hell out of Hibiki. She's very skilled at the last power.
- CHARACTER'S FAMILY -
Nothing is known of her family
HOME PLANET/COUNTRY (Optional):
Majorland
- CHARACTER'S HISTORY -

PAST HISTORY:

Siren, feeling betrayed by Aphrodite because she chose Hummy to sing the Melody of Happiness, goes to Mephisto of Minor Land pledging her loyalty. On the day that Hummy was due to debut as the new singer of the Melody of Happiness, Mephisto attacks stealing the Legendary Score and rewriting the notes to create the Melody of Sadness. He then Called forth Siren to sing the new melody. Aphrodite was shocked over her betrayal as she began to sing causing the crowd to start crying and feeling sad. Aphrodite stops the song and spreads the notes to the land where warriors are born. Mephisto sends Siren and the Trio the Minor after them.
First Encounter with Pretty Cures
Siren, in the guise of Ellen, meets Hibiki first and is eager to take the G Clef sealed in her heart. Hibiki runs outside only to see Kanade holding a record the two girls used to listen to together. Siren sees Kanade has the same G Clef as Hibiki and orders the Trio the Minor to take Kanade's while she takes Hibiki's. Before they even reached the G Clefs, the emblems suddenly shone, throwing back Siren and Trio the Minor. As she regains her footing, she sees one of the notes from the Legendary Score on the record and quickly transforms it into a Negatone which calls forth a monster to attack the city and spread the sorrow. Hibiki and Kanade were angered by this, and the emblems in their hearts came out and transformed into Cure Modules, which allowed the two girls to transform into Pretty Cure.
Betrayed Again
During episode 10, Siren was injured and was about to get hit by a car until Ouji saved her. In his presence, she cannot reveal her true nature to him but seemed to have developed a bond with Ouji. The next day, Siren hesitates due to Ouji's presence and one of her subordinates, Bassdrum, transforms the gifts Hibiki and Kanade received into Negatones which they defeat. Afterwords, Bassdrum denounces Siren as their leader. Later, Mephisto declares Bassdrum as the new leader due to Siren's sudden change.
The Big Lie and Being Brainwashed
During Episode 13, Siren sees Hummy telling Hibiki and Kanade about the times when they were still friends. Hummy is able to reach her heart and Siren begins to cry. Then, Falsetto and Baritone appear in disguise, and inform the girls that there is a "Negatone" wreaking havoc in the town. Once Hummy and the girls are out of the way, Siren sees one of the old contestants who tells her that Hummy told the judges for the audition that Siren had given her a fake score. Mephisto appears and tells her the same thing, but Siren still believes in Hummy. She then tried to oppose him but Mephisto brainwashed her again, making sure he erased her memories of being with Hummy and becoming a tool to serve him.
Rebirth and Regret
After Siren obtains the Fairy Tones and the scattered notes, Mephisto invades Kanon Town and sets up a stage to perform the Melody of Sorrow. Aphrodite speaks with Hibiki and Kanade, asking them to believe in Hummy. However, Hummy is kidnapped by Mephisto and is given headphones to amplify the Melody of Sorrow. As Hummy nonetheless expresses her words of friendship to Siren and sings, Siren remembers the good times she spent with her and is moved to tears. As Mephisto tortures Hummy with the Melody of Sorrow, Siren turns against him and tries to free the Notes, but Mephisto turns them into a Negatone. Hummy manages to free herself and the Fairy Tones, allowing the girls to transform. As Mephisto targets Hummy yet again, Siren calls out and transforms into the Pretty Cure of Miracles: Cure Beat, whilst Hibiki and Kanade defeat the Negatone. Siren, however, is unable to take everything in and runs off.
Everyone becomes curious as to how Siren became a Pretty Cure, especially Siren herself, who finds she can no longer transform into a cat or change her disguise. Left confused as to where to go, she winds up at the church where Mr. Otokichi gives her comfort. Hummy finds her, but she feels she doesn't deserve to be forgiven so easily. As Hummy follows her around, with Hibiki and Kanade also offering their friendship, they are approached by the Minor Trio who create a Tree Negatone. As the Pretty Cure run into trouble and Hummy is captured, Siren stands to protect and produces a Cure Module, allowing her to transform into the Pretty Cure, Cure Beat. Using her new abilities, she rescues Hummy and defeats the Negatone. After the battle though, Siren is still unable to forgive herself and runs off again. SPC22
Forgiveness and Joining the Team
Now known as Ellen, Siren continues to reject Hibiki and Kanade's offer of friendship as she is still unable to forgive herself. She encounters a boy named Mamoru who is hiding from his father. He explains that he ran off with his bag after hearing he was going to work abroad for a year. As Hibiki and Kanade have conflicting ideals to Ellen, they go to search for the father whilst Ellen leaves with Mamoru. Mamoru soon discovers a stuffed animal inside the bag that his father made him and decides he wants to return, helping Ellen realize she's not alone as well. However, just as father and son are reunited, Bassdrum spots a Note inside the doll and creates a Negatone from it. As Bassdrum tries to waver Ellen's feelings, Hummy helps her build up the courage to join in the fight as a Pretty Cure. After defeating the Negatone, Ellen overcomes her worries and officially joins the Pretty Cures.
GOALS/MISSION:
Be happy, stay with her friends, and one day become a wife
- OTHER –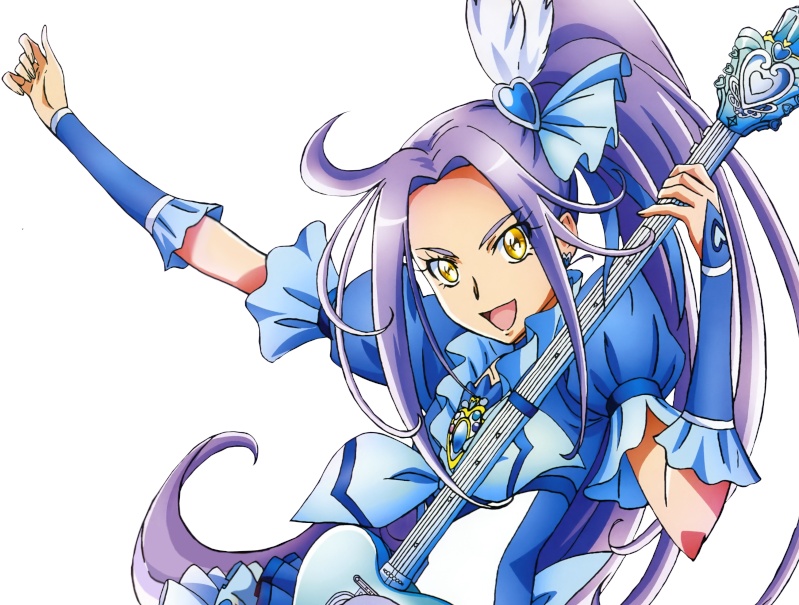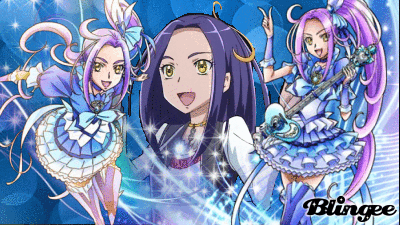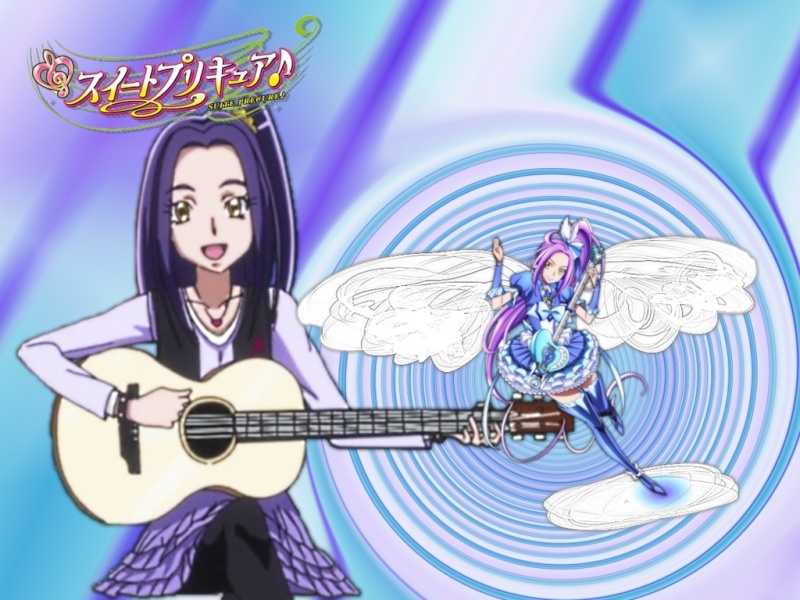 Last edited by AshK1980 on Thu Jan 22, 2015 8:43 pm; edited 6 times in total
- CHARACTER'S GENERAL STATISTICS -

USER NAME: Iorichan

NAME: Cure Muse

ANIME, GAME ETC. YOUR CHARACTER IS BASED ON, OR IS IT MADE UP: Suite Precure

ALTERNATE NAME, NICKNAME OR HUMAN NAME (Optional): Shirabe Ako

NAME MEANING (Optional):  TBA

GENDER: female

AGE (Optional):  13

BLOOD TYPE (Optional):  O

HERO OR VILLAIN: Hero

OCCUPATION:  Student

ALLIES (Optional):  Cure Melody, Cure Rhythm, Cure Beat, Hummy, Mephisto, Trio Minor, Aphrodite, Various other Pretty Cure - especially Cure Moonlight and Cure Ace, who think of her as the little sister they never had.  

ENEMIES (Optional): Nearly every villain representing the chaos forces.


- CHARACTER'S PHYSICAL APPEARANCE IN HERO/SENSHI FORM -

EYE COLOUR: Magenta

HAIR COLOUR: Bright Orange

HAIR LENGTH (Optional): extremely long and wavy, going all the way down to her feet

SKIN COLOUR (Optional): palish pink

NATIONALITY (Optional): Major Land originally

BIRTHMARKS, TATTOOS, WINGS OR OTHER PHYSICAL ATTRIBUTES (Optional): As Cure Muse, her hair is long, styled and a brighter orange hue.  Her eyes have a strong magenta color to them.

COSTUME:  Long yellow ribbons adorn each side of her head and on her forehead is a silver tiara-like headpiece with a magenta heart in the middle.  The top part of her costume is pale yellow with a short yellow cape around her shoulders. Her skirt is yellow and is as puffy as the other Suite Cures and is lined in white. There are also yellow ribbons on both side of her hips. She also wears yellow knee-length boots with orange ribbons decorating them.

WEAPONS/ITEMS:  Cure Muse uses a henshi device called the Cure Module, which looks like a large multi-jewel broach. When she runs her hand across it...it allows her to transform and take on the form of Cure Muse, with help from the Fairy Tone Dodory.  Cure Muse does not have a special purification weapon, using her Cure Module to attack instead. With the help of Tiry, she can perform Shining Circle and Sparkling Shower.


- CHARACTER'S PHYSICAL APPEARANCE IN HUMAN/NORMAL FORM -

EYE COLOUR: Orange

HAIR COLOUR:Orange

HAIR LENGTH (Optional): Short, barely shoulder length

SKIN COLOUR (Optional): palish pink

NATIONALITY (Optional): Major Land


BIRTHMARKS, TATTOOS, WINGS OR OTHER PHYSICAL ATTRIBUTES (Optional): Ako has short orange hair and orange eyes and wears glasses

COSTUME: Ako often wears a long-sleeved pink shirt, light purple overall shorts with matching belt, pink socks, and white and light blue sport shoes. In summer, her outfit is still the same, except she replaces her long-sleeved pink shirt with a short-sleeved one.

WEAPONS/ITEMS/TALISMANS: She only carries the cure module with her, displayed as jewelry.


- CHARACTER'S PHYSICAL & MAGICAL POWERS -

LIST PHYSICAL ATTACKS AND EFFECTS: As a pretty cure, Ako can move faster, fight better and take more hits than she usually can in human form.  However, physically, she is the weakest on her team.  However, her spiritual might more than makes up for it...as does her mouth.

LIST MAGICAL ATTACKS AND EFFECTS:

Shining Circle -  This is Cure Muse's basic attack where she calls forth Shiry and she creates a star around her enemy.  Shiry lands on the space on the Cure Module and while playing a tune, Muse makes four projections of herself that surround the enemy. Extending the hand that holds the Module, the other projections do the same. A blue beam of light comes from the real Shiry's gem and connects the other four in a star seal that surrounds the enemy in the center. Calling out the attack name, white light comes from the center, trapping the enemy inside.

Sparkling Shower - This is Cure Muse's basic finishing move.  Cure Muse detaches her Cure Module on her chest and calls upon Shiry. Shiry lands on the space on the Cure Module and Muse materializes yellow bubbles using the Fairy Tone's powers before she plays a tune. The bubbles change into note-like forms and Muse declares the attack name before launching them into the Negatone. The bubbles surrounds the Negatone, encasing it in a large bubble. Cure Muse draws a triangle with her Cure Module and finishes the attack. A purification explosion occurs, purifying the creature inside.

Miracle Heart Arpeggio - a More powerful version of Musical Rondo that Cure Muse helps Cure Melody do.

Fantastic Piachere - a More powerful version of Music Rondo that Cure Muse helps Cure Rhythm do.

Priness's Piano Concerto - Cure Muse can also create a rainbow-colored piano clapping her hands together and spreading the keys out. When she plays on this piano, the keys shoot out to surround her target within a barrier. She uses this to trap enemies and also to protect friends and civilians.

Suite Session Ensemble Crescendo Finale - Combined attack by Melody, Ryhthm, Beat and Muse... a powerful combo attack which takes all of their energy..and sends them flying at their foe in one large group bull rush attack.  Only one foe has ever survived this final attack.


LIST PHYSICAL WEAKNESSES:  Without being able to transform, the girls are normal humans, with all the weaknesses that come with that. However, on top of that...Muse is the weakest Precure...and in human form, she's a 9 year old little girl....with a BIG mouth.

LIST MAGICAL WEAKNESSES: None


- CHARACTER'S PERSONALITY -

ATTITUDE TOWARDS OTHERS:  When she first appeared, Ako was cold and disrespectful to her elders (Hibiki and Kanade) and very mature for her age. But behind all that coldness, she is a sweet, loving and caring girl and sometimes likes to have a little fun and loves singing.  She will still act tsundere alot...which some find adorable...

She loves her parents, but hates it when fight (each other) and wishes them to stop and took the choice of doing it herself. She loves her father very dearly and even transformed into a Pretty Cure for him. But, when he does awkward and gushy manners, she get embarrassed like other kids with their parents.

She is in love with Kanade's little brother, Souta, and spends much of her spare time with him.  He does not know the truth about her real origins, or about the truth about the Pretty Cure's.


FAVOURITE COLOUR (Optional): Yellow

FAVOURITE FOOD (Optional):  Chocolate Pudding, Vanilla Pudding, Strawberry Pudding, Pudding Pudding, etc.

FAVOURITE SUBJECT (Optional):  Science

LEAST FAVOURITE SUBJECT (Optional):  None

ANIMAL THAT BEST REPRESENTS HIM/HER (Optional):  Owl

LIKES (Optional):  studying, singing, classical music, friendship, quiet moments, family

DISLIKES (Optional):  her father glomping her, Trio De Minor glomping her, Souta glomping her, Souta Ignoring her, Souta glomping anyone else including his own sister, Listening to Kanade and Hibiki argue, Listening to Kanade and Hibiki make out, Listening to Kanade and Hibiki sit in awkward silence after she scolds them, and finally, being forced by Ellen to wear cute little girl outfits

DREAMS/WISH (Optional): to be a great Queen like her mother, and to be Souta's wife.

BOYFRIEND/GIRLFRIEND/SECRET CRUSH (Optional): Minamino Souta (boyfriend)

HOBBIES (Optional): music, studying, dating


- CHARACTER'S FAMILIAR/GUARDIAN -

NAME OF ANIMAL/CREATURE FRIEND: Hummy

NICKNAME: Hummy
 
PHYSICAL DESCRIPTION: a small pink and white cat with blue eyes..

AGE (Optional): unknown

ATTITUDE TOWARDS OTHERS: friendly and jovial

STORY BEHIND ANIMAL/CREATURE FRIEND: Hummy is a female cat-like Fairy of Songs, and the partner of both Hibiki and Kanade. She was the annual singer of the Melody of Happiness and Best friend of Siren. Hummy was sent to the human world to search for and collect the scattered notes of the Melody of Happiness when she met both Kanade and Hibiki to help her collect these.

LIST PHYSICAL ATTACKS AND EFFECTS:  Hummy is a short kitty.... she's one step up above a stuffed teddy bear in offensiveness

LIST MAGICAL ATTACKS AND EFFECTS:  Hummy's main talent is her singing...but that's only for special ceremonies in the Majorland, she doens't have many of her powers anymore, except to talk to animals, create a temporary forcefield and to annoy the hell out of Hibiki.  She's very skilled at the last power.


- CHARACTER'S FAMILY -

MOTHER'S NAME (Optional): Queen Aphrodite

FATHER'S NAME (Optional): King Mephisto

SISTER'S NAME (Optional): Furura Melody Shirabe/Cure Harmony

HOME PLANET/COUNTRY (Optional): Major Land


- CHARACTER'S HISTORY -

PAST HISTORY:

Ako first appeared walking with Kanade's brother Minamino Souta to school. She ran into Hojo Hibiki and Minamino Kanade arguing and told them to get out of her way. She seemed disrespectful of her elders and had no respect for them and seemed to be somewhat mature for her age. She also told Hibiki and Kanade later that she liked singing but was not very good at it. A few weeks later, she and Souta saw Hummy and Siren together and told Hibiki and Kanade about it.

Cure Muse first arrived as a Masked Cure when she saved Kanade and Hibiki from a Negatone made by Bassdrum at a fake music contest near the clock tower.  Hibiki and Kanade immediately began speculating about her identity. Some suspects were Nishijima Waon and Higashiyama Seika. Also Bassdrum called out to Cure Muse and refers to her as "Siren!" leading to the speculation that Cure Muse may actually have beeb Siren.  However, this was soon proven false, as she saved the Cures from Siren herself.  She both saved the Cures and helped them on several other occasions but started to worry that the others are getting too powerful when they acquired the Healing Chest. Cure Muse never talked when she was disguised as the Masked Cure, Dodory talked for her.

Ako would later tell her friends that she became a Cure on the very day Mephisto stole the legendary score. She hid her identity and became the masked Cure because she really didn't want to fight against her father. After Hibiki said that they were fighting to save Mephisto, she revealed herself but still could not quite bring herself to fight her father. Melody, Rhythm and Beat started fighting him for her, but were hopelessly outmatched, so Ako stepped in as Muse and begged her father to stop. This did not work, as Mephisto was too well controlled by the Noise of evil. Finally, Muse gathered up her courage and punched Mephisto which knocked him back to his senses and returned him to normal.

She would then join the group full time to help stop Noise's threat to the world.

Even though she must return to Major Land one day as Princess, she continues to live in our world, as she is close with the other Precure's and because of her love for Souta.  And because Trio De Minor can't go to Earth anymore to give her noogies and glomps.
 
GOALS/MISSION:  to be a great Queen like her mother, and to be Souta's wife.


- OTHER –


CHARACTER IMAGE LINKS (Optional):

https://i.servimg.com/u/f39/12/32/52/90/48221610.jpg

https://i.servimg.com/u/f39/12/32/52/90/doremi10.jpg

https://i.servimg.com/u/f39/12/32/52/90/shirab10.jpg

https://i.servimg.com/u/f39/12/32/52/90/shirab11.jpg

https://i.servimg.com/u/f39/12/32/52/90/shirab10.png

https://i.servimg.com/u/f39/12/32/52/90/tumblr10.jpg
Last edited by AshK1980 on Thu Jan 22, 2015 8:43 pm; edited 2 times in total
- CHARACTER'S GENERAL STATISTICS -

USER NAME: Iorichan

NAME: Cure Fortune

ANIME, GAME ETC. YOUR CHARACTER IS BASED ON, OR IS IT MADE UP: Happiness Charge Precure

ALTERNATE NAME, NICKNAME OR HUMAN NAME (Optional):  Hikawa Iona

NAME MEANING (Optional):

GENDER: Female

(APPROXIMATE) AGE: 14

BLOOD TYPE (Optional):

DATE OF BIRTH (Optional):

STARSIGN (Optional):

HERO OR VILLAIN: Hero

OCCUPATION: Student, Happiness Charge Precure

ALLIES (Optional): Happiness Charge Precures and the heroes in the chapter.

ENEMIES (Optional): Any all enemies of the heroes.


- CHARACTER'S PHYSICAL APPEARANCE IN HERO/SENSHI FORM -

EYE COLOR: Violet

HAIR COLOR: Bright Lavender

HAIR LENGTH: Knee-Length

SKIN COLOR: peach

NATIONALITY (Optional): Japanese

WEIGHT (Optional):

HEIGHT: 5'7"

BIRTHMARKS, TATTOOS, WINGS OR OTHER PHYSICAL ATTRIBUTES (Optional):

COSTUME: As Cure Fortune, her uniform is similar to the other three Cures, with a dark grey vest with a light purple collar and a darker purple ribbon in the front. Her skirt is also light purple and is longer toward the back. Her arm warmers and boots are also very long, going past her elbows and knees respectively. Her hair is purple and appears to be in a loose ponytail, with a heart-shaped hairpiece with a ribbon flowing out of it on the left side. Her bow also functions as a glowing pair of purple wings. Once she gains her new powers, she now wears a ring on her right middle finger that can summon her Fortune Tambourine.

Pine Arabian (パインアラビア Paīn Arabia ?) is a form that Cure Fortune can change into with the PreCards. It is unknown when she received the cards for this form. In this form, her hair is in a high ponytail, styled similar to Cure Peace's, with a turquoise and gold headband with two ribbons hanging from each side. Her bodice is turquoise on top with a gold heart on her chest with a lighter-colored bottom part and gold designs along with a short skirt-like lining. The sleeves are shoulder-length and lighter in color. She also wears puffy turquoise pants with gold heels with turquoise tips and ankle bracelets. She wears two gold bangles around each wrist.

Anmitsu Komachi (あんみつこまち Anmitsu Komachi?) is another form that Cure Fortune can change into with the PreCards. This form represents Japanese traditional dance. Fortune's hair is combed with two strands, forming a ribbon and the remaining hair as a ponytail with a red ribbon and a cherry blossom in the middle. Her earrings are cherry blossoms shaped with deep pink and yellow outlines. Fortune wears a light purple kimono with detached sleeves, shoulder pads have wavy cuts roses, the nagajuban neck is red and the bottom of her kimono is a skirt like the petals of cherry blossoms, a red belt with purple obi-dome (belt clip) holding a heart with a cherry blossom in the center, and sleeves start from the middle of the forearm with purple grips and extend to her wrists, end in pink wavy cuts, while its extension have drawn a cherry blossom in pink stockings. Her geta sandals are purple with red grips.

WEAPONS/ITEMS: PreChange Mirror(Former), Fortune Piano, Fortune Tambourine.

JEWELRY (Optional):


- CHARACTER'S PHYSICAL APPEARANCE IN HUMAN/NORMAL FORM -

EYE COLOR: Midnight Violet

HAIR COLOR: Midnight Violet

HAIR LENGTH: Waist-Length

SKIN COLOR: Peach

NATIONALITY (Optional): Japanese

WEIGHT (Optional):

HEIGHT: 5'7"

BIRTHMARKS, TATTOOS, WINGS OR OTHER PHYSICAL ATTRIBUTES (Optional):

COSTUME: As a civilian, her hair is shorter and a darker shade of purple, although the fringe stays the same. In summer, she wears a light purple and pink shirt with light blue pockets and and a light purple two-layered skirt with short purple boots. In winter, Iona wears a purple jacket with a lighter purple shirt underneath. She wears grey shorts and white boots.
In the movie, she wears a purple jacket with a white shirt underneath and a purple skirt with short light purple boots.

WEAPONS/ITEMS/TALISMANS: PreChange Mirror(Former), Fortune Piano

JEWELRY & ACCESSORIES (Optional):


- CHARACTER'S PHYSICAL & MAGICAL POWERS -

LIST PHYSICAL ATTACKS AND EFFECTS: Martial Arts Techniques.

LIST MAGICAL ATTACKS AND EFFECTS:
Sub Attacks:

Fortune Starburst (フォーチュンスターバースト Fōchun Sutābāsuto?) is a usual sub attack used by Fortune.
Fortune Star Ring (フォーチュンスターリング Fōchun Sutā Ringu?)
Fortune Comet Arrow (フォーチュンコメットアロー Fōchun Kometto Arō?)
Fortune Shaking Star (フォーチュンシェイキングスター Fōchun Sheikingu Sutā?)
Fortune Galaxia Meteor (フォーチュンギャラクシアメテオ Fōchun Gyarakushia Meteo?)
Fortune Tamba Ring (フォーチュンタンバリング Fōchun Tanba Ringu?)
Fortune Magic (フォーチュンマジック Fōchun Majikku?) is another attack used with the Shining Make Dresser.
Fortune Rose to Sleep (フォーチュンマジック Fōchun Rōzu To~u Surīpu?) is another attack used with the Shining Make Dresser.

Finishers:

Stardust Shoot (スターダストシュート Sutādasuto Shūto?) is the first finisher used by Cure Fortune, debuting in episode 1. She first moves by saying "Light of the stars, turn into holy powers! LovePreBrace!" later as she activates her LovePreBrace, she creates a big purple star with her hands, and later shoots it at the enemy, while saying "Stardust Shoot!". As the star traps the enemy, Cure Fortune says "Stars, return to the skies!" and the Saiark purifies. It appears that she loses the ability to use this attack now that she has gained new powers.
Star Stream (スターストリーム Sutā Sutorīmu?) is the second finisher used by Cure Fortune.
Starlight Ascension (スターライトアセンション Sutāraito Asenshon?) is the third finisher used by Cure Fortune, performed with the Fortune Tambourine.
Oriental Dream (オリエンタルドリーム Orientaru Dorīmu?) is Pine Arabian's main attack, performed with Fortune Tambourine.
Sakura Blizzard Dance (さくらふぶきの まい Sakura Fubuki no Mai?) is Anmitsu Komachi's main attack, performed with Fortune Tambourine.
Happiness Big Bang (ハピネスビッグバン Hapinesu Biggu Ban?) is her first group attack, where she needs the Shining Make Dresser.
Emerald Illusion (エメラルドイリュージョン Emerarudo Iryūjon?) is her individual attack using the power of the Shining Make Dresser, in her Innocent Form.
Innocent Purification (イノセントプリフィケーション Inosento Purifikēshon?) is her second group attack along with Lovely, Princess and Honey, where she needs the Shining Make Dresser and the Innocent Harmony Mic. To perform it, all the girls must be in their Innocent Form.


LIST MISCELLANEOUS ATTACKS AND EFFECTS: None

LIST PHYSICAL WEAKNESSES: Is a Normal Girl when not transformed.

LIST MAGICAL WEAKNESSES: None


- CHARACTER'S PERSONALITY -

ATTITUDE TOWARDS OTHERS: She helps the weak and has a strong sense of justice and gentleness when she consoles people. With her sense of duty as a Cure and her excellent fighting skills, she goes on her own to bring down the Saiarks one by one.

She is cool, serious, obtaining excellent grades, and a a capable girl. Strict both with herself and with others. She hates to lose. Doesn't laugh much. A bit careless in her perfection in that she thinks she can do anything by herself and won't rely on others.

She has an aura which makes it difficult to approach her, thus she has few friends. She doesn't laugh because she is tense, and wants to change her cool and stiff character. In fact, she loves to laugh, to the point of spouting out her drink after hearing a random gag.

At the time of her first appearance she'll be expert at being alone, however as times goes by with Megumi and company, she'll learn to show her smile and fight as a team. Cute when she shows her dark side. She is an active and smart girl, and she is quite popular in her school.

She appears to be very cold towards Hime and scolds her that the Phantom Empire invasion is her fault. In episode 8, she predicts a terrible future for Hime and Megumi and even tells Cure Lovely not to trust Princess or there will be a great disaster.


LIKES: Martial Arts, Yuko's Family Restaurant's food.

DISLIKES: Anything and anyone causing despair to the world she lives in.




- CHARACTER'S FAMILIAR/GUARDIAN -

NAME OF ANIMAL/CREATURE FRIEND: Glasan

NICKNAME: Glas-Chan

MEANING OF NAME (Optional): Unknown

PHYSICAL DESCRIPTION: Glasan looks similar to Ribbon, except she has purple hair and wears a purple dress and a bag on her back.  As her name suggests, she has a pair of purple sunglasses on top of her head. They are usually up, but sometimes they are down.

AGE: Unknown

ATTITUDE TOWARDS OTHERS: She is caring, kind and optimistic. She is shown to admire Cure Tender and also cares for Iona much. She is friendly and always gives Fortune advice, especially when the girls invited her to join the team.

STORY BEHIND ANIMAL/CREATURE FRIEND: Unknown

LIST PHYSICAL ATTACKS AND EFFECTS: Unknown

LIST MAGICAL ATTACKS AND EFFECTS: Unknown

LIST MISCELLANEOUS ATTACKS AND EFFECTS: Unknown

LIST PHYSICAL WEAKNESSES: Unknown

LIST MAGICAL WEAKNESSES: Unknown


- CHARACTER'S FAMILY -

MOTHER'S NAME (Optional): Unknown

FATHER'S NAME (Optional): Unknown

SISTER'S NAME (Optional): Maria Hikawa

BROTHER'S NAME (Optional): N/A

HOME PLANET/COUNTRY (Optional): Pikarigaoka, Japan, Earth


- CHARACTER'S HISTORY -

PAST HISTORY: Somewhere in the city, Cure Princess was fighting the enemy known as Saiark. Cure Princess tried her best to defeat it but ends up being hit by its attack and de-transforming. Cure Fortune arrives on the scene in the nick of time and uses her Stardust Shoot attack to purify the Saiark and saved the person who was trapped inside the mirror. Before leaving, she scolds Hime for being a coward and not fulfilling her duty as a Pretty Cure, even going as far as blaming her for the Phantom Empire's invasion.
Saving the Cures

When Oresky was about to finish Lovely and Princess off, she arrived and saved them and easily took down the Saiarks. Before she left, she advises Megumi not to team up with Princess or else she will face a disaster.
Fighting Phantom

She wants to defeat Phantom to avenge the defeat of her sister, Cure Tender, who gave her her Cure powers. When she was able to fight him, she did it alone and was overwhelmed by Phantom's power. However, Cure Lovely convinced her that they may have a chance if they combined their powers.
Fighting as a team and revealing her identity as Cure Fortune

Hosshiwa comes at the wedding ceremony and calls out a Saiark. The other Cures are having trouble. She arrives and says that she'll protect everyone's smiles. Lovely and Honey came fighting together with her, and then Princess joins, uses Hawaiian Alohaloe attack, making a chance for Honey to purify the Saiark. Lovely thanks her for helping, and she advises them to protect the ones they love but she is still strict towards Cure Princess, saying that she doesn't expect anything from her.

In episode 19, when the Cures are trapped in a net, Fortune arrives, hits the Saiark's balls back to it and saves the Cures. Lovely thanks her and together the four Cures fight the Saiarks and the Choiarks. Lovely uses her form change to purify the Choiarks. Fortune then attacks the Saiark and defeats it with Stardust Shoot, which helps the match to continue. Finally, Megumi's team wins. Gon gives Iona 60 dangos because she scored 2 goals, but she says the team did it together, so he should share dango for everyone. When Seiji, Megumi, Hime and Yuko are walking home, Iona runs to them and reveals herself as Cure Fortune, suggests Megumi and Yuko to team up with her, which makes Hime upset.
Hime's mistake

In episode 20, she reveals to the rest of the team that Hime is responsible for the Phantom Empire's invasion because she opened Axia. Upon learning that, Hime runs away. When the others try to look for her, Iona advises Megumi not to and that Hime doesn't deserve to be a Pretty Cure at first. During the battle with the Saiarks, Fortune teams up with Lovely to defeat them. Lovely tries to reason with Fortune about Hime, but she is still unsure. When they rub Ribbon's nose together, Hime watches and fears the worst - Lovely has kicked her out of the team in favor of Fortune and runs away again.
Confronting Phantom and dueling with him

Phantom summons a bunch of Saiarks in order to lure the Happiness Charge Pretty Cures, and Cure Fortune also helps in defeating them. She follows Phantom, but he is actually luring her into his trap by bringing her to his Pretty Cure Graveyard, where he kept all the Cures he defeated and as of the end of episode 21, they are about to duel. However, the duel is horribly one-sided and Phantom defeats Cure Fortune, shunting her back to her transitioned state. Taking her PreCards, Phantom destroys them and mocks her over her vengeance, revealing that her sister's defeat was not Hime's fault, but her own for following her. At that point, the Happiness Charge team arrived with Cure Princess confronting Iona and giving her all PreCards that they had collected. Iona ends up using the cards to restore her powers, creating her own device, the Fortune Piano, in the process. With a stronger resolve, Cure Fortune battles and vanquishes Phantom, recovering her sister's PreChanMirror. Through this, she apologizes to the Happiness Charge team and asks to join them, which makes everyone happy, especially Hime.
Her first shopping with Hime

The Cures decided to celebrate a party to welcome Iona to Happiness Charge Pretty Cure!. Megumi and Yuko wanted to make a cake, but they don't have enough ingredients. So, Hime and Iona must go to the supermarket together. Iona told that the supermarket which she usually goes to has cheaper things. There, they bought some vegetables and eggs. When they had bought enough, Hime saw Pretty Cure snacks and wanted to buy some. Iona disagreed, but Hime begged her. Ribbon told her not to be so selfish, but then Iona agreed. They went out and had a rest. Iona asked Hime why she opened Axia, and she told that she heard a sad voice from the box. Iona then ran away, but Hosshiwa appeared with two Saiarks, which made Fortune found it hard to fight. Princess arrived on time and together they fought them, with Fortune purified them with Starlight Ascension. Then Lovely and Honey came, and Princess told that they were late. Back to the embassy, they had a party with a cake, which had the Cures, Ribbon and Glasan's figurines.
Her first date and receiving the Innocent Form

Megumi, Hime and Yuko were trying to awake the power of the Shining Make Dresser. Iona came and they told her to do it. She then did some cute faces, which made the others surprised. At school, the trio asked her to do it once again, but she didn't. Meanwhile, Seiji and his friend Kaidou Yuya were watching and talking about Iona. When Hime told Iona to do it again, Yuya arrived and Hime left, watched her along with Megumi and Yuko. Yuya confessed to Iona that he liked her, and after thinking carefully, Iona decided to go for a date with him. The Cures, with Yuya and Seiji, went to the zoo, and they left Iona and Yuya behind. They watched the animals, played Frisbee and talked. Yuya told more about her, which made she embarrassed. She ran away to buy some ice-cream, but when she came back, Namakeldar was there with Yuya, who was turned into a Saiark. The girls came and they transformed, but were overpowered easily. However, Fortune didn't give up and she wanted to save Yuya. With this, her innocent feelings were awaken. She received new PreCards and transformed into her Innocent Form. She performed Emerald Illusion to trap the Saiark before purifying it with Happiness Big Bang. After that, Iona and Yuya apologized to each other. In the end, they were playing Frisbee again with Megumi, Hime, Yuko, Seiji, Ribbon and Glasan watching.
Saving her sister

At the end of episode 37, Cure Tender, who was now under Queen Mirage's control, arrived to free Oresky, who was about to be purified by Happiness Big Bang. Cure Fortune was shocked when she saw her, almost immediately recognizing her. She tried to reach out to Tender, but she could not hear her and kept referring to herself as Queen Mirage's servant. Fortune, along with the others, changed into their Innocent Forms to fight Tender and she continued to try to free her sister and help her remember who she really is. However, Queen Mirage always brought her back under control every time. Tender was about to land a fatal blow on Fortune when Lovely stepped in to take the hit, reminding her of how she stood in the way of Phantom's attack to protect Iona. When Fortune cried out as Mirage once again brought Tender back under her power, her feelings were able to awaken another power in the Shining Make Dresser, allowing the Cures to use Innocent Purification to free Tender. Soon after, they all de-transformed and Maria thanked everyone for helping her and Iona was happy to be reunited with her.

GOALS/MISSION: To continue to keep peace in Pikarigaoka and around the world.


- OTHER –

This is what she says after transforming: "The star of hope that lights up the night sky, Cure Fortune!"

CHARACTER PROFILE LINKS (Optional): http://prettycure.wikia.com/wiki/Hikawa_Iona
- CURE SHIELD'S GENERAL STATISTICS -


USER DISPLAY NAME: Iorichan


HERO NAME: Cure Shield


PRETTY CURE SERIES CHARACTER IS FROM OR IS IT FROM ANOTHER ANIME/MANGA OR GAME SERIES: Bodacious Space Pirates, but altered for the world/time of Happiness Charge Precure


ALTERNATE NAME, NICKNAME OR HUMAN NAME (Optional): Mamoru Makoto


NAME MEANING (Optional): Protection of Sincerity


GENDER: female (tomboyish)


(APPROXIMATE) AGE: 15


BLOOD TYPE (Optional): B

DATE OF BIRTH (Optional): October 7th

STARSIGN (Optional): Libra

HERO OR VILLAIN: Hero

OCCUPATION: Student, lead singer of rock band 'Yesterday's Heroes'

ALLIES (Optional): Happiness Charge Pretty Cure girls, Seiji, Blue, Red, Cure Mirage

ENEMIES (Optional): Enemies of Precures


- CHARACTER'S PHYSICAL APPEARANCE IN HERO/PRETTY CURE FORM -

EYE COLOR: khaki green

HAIR COLOR: dark brown

HAIR LENGTH: short spiky

SKIN COLOR: normal

NATIONALITY (Optional): Japanese

BIRTHMARKS, TATTOOS, WINGS OR OTHER PHYSICAL ATTRIBUTES (Optional): Dimple underneath her right eye in both forms

COSTUME: Cure Shield has chocolate brown spiky hair. Her eyes also change from olive to a khaki dark green colour. She wears a tiara shaped like a ROman General's head peace on her head. She wears silver earrings on the bottoms of her ears. Her outfit is mainly red, with bright silver lining and highlights. Her sleeves are single-layered, and the bow at her chest is small with a large piece behind it that sticks out like twin swords . The back of her top extends out in a single red simple ribbon piece. Her arm protectors reach past her elbows, and are decorated with red ribbons at the top and silver folds at the wrist. Her boots are long as well, reaching past her knees with red ribbons at the top.


WEAPONS/ITEMS: On the back of both of her gloves are twin mini-shields that allow to deflect blows and blasts. These are silver...and are very sparkly... She sometimes can use these to reflect light in enemies eyes to distract them.

- CHARACTER'S PHYSICAL APPEARANCE IN HUMAN/NORMAL FORM -

EYE COLOR: olive

HAIR COLOR: chocolate brown

HAIR LENGTH: short and wavy

SKIN COLOR: normal

NATIONALITY (Optional): Japanese

BIRTHMARKS, TATTOOS, WINGS OR OTHER PHYSICAL ATTRIBUTES (Optional): Dimple underneath her right eye in both forms

Clothing: When at school, Makoto tries to wear a boy's school uniform, which she seems to get away with for some reason. When not at school, she wears a short sleeved white blouse covered by a maroon-coloured vest set off by a large red ribbon on her chest. Sometimes she'll wear a aqua blue and white blazer over this. She usually wears white and red sneakers with long stockings which are striped marroon and brown. She usually wears a blue skirt with a white stripe. but sometimes it's a pair of shorts of the same colour.

WEAPONS/ITEMS/TALISMANS: She often carries brass knuckles around for protection. (She came from a rough neighbourhood)



- CHARACTER'S PHYSICAL & MAGICAL POWERS -

LIST PHYSICAL ATTACKS AND EFFECTS:

Makoto is a kenpo, kyokushinkai and aikido aficianado. As such, she is very good at brawling it up, but if feeling very threatened, she will go into a more pugilistic style. She's not below using dirty fighting to win, if it comes down to that...as some unlucky villains have found out. She is also good at rolling with punches and blocking / deflecting kicks and punches. She's one of the cures you don't want to get into hand to hand with.


LIST MAGICAL ATTACKS AND EFFECTS:

Shielding Focus Strike: This is basically a concentrate attack by Cure Shield where she stops and meditates for a moment, holding her left hand fully up right in a knife hand strike, with her left hand on the buckler on her right hand. Cure Sheild softly whispers an incantation. Then she swings her rihht hand back over her shoulder, lets out a scream and brings the hand back down front wards in an arc, crying out 'Shielding Focus Strike'. A blast of energy of great strength comes out and strikes multiple targets with strong sharp blasts of energy.

Shield Hands of Stone: Should a monster/villain get the drop on her, Cure Sheild will quickly switch to this power. She rubs her hands together, and looks upwards towards the Heavens. Her hands and feet then grow a bright jade green. Her attacks are now much more powerful barehanded, as if she were hitting with blocks of stone instead of feet and hands, however, she doesn't feel any slower with her attacks.

Cure Shield Armageddon Blast: Note, that this blast basically takes almost all of Cure Shields remaining energy, and she generally needs to sleep 8 hours just to recover. For this reason, she rarely uses this, as she hates being taken out of the fight, so to speak. Cure Sheild makes some Taoist signs with her hands and releases a loud Chi sound from her throat. Then she builds up a ball of energy in her hand…slowly draws her hand back and then pushes it forward with a large blast… As she shouts "Cure Shield Armageddon Blast", the energy explodes into a huge avalance of energy rushing forward to crush her foe.

LIST PHYSICAL WEAKNESSES: Normal human ones. One thing she has though as a weakness is her temper, which she can lose if she feels people are being bullies. Sometimes, it will take a lot to get her angry. However, some days, she also seems to have a hair pin trigger. She tends to be calmer around Hime/Cure Princess, but if Cure Princess is the target of bullying, this limit goes down.

LIST MAGICAL WEAKNESSES: Same as most humans.


- CHARACTER'S PERSONALITY -

ATTITUDE TOWARDS OTHERS:
For the most part, Makoto is a very friendly gregarious girl. She likes to have fun and joke with both boys and girls. She used to flirt with girls nonstop, but that has slowed due to her serious relationship with Hime. While she is mostly friendly, if someone seems to be a bully - either physically or socially - Makoto will be quick to act and slow to forgive. She has a bit of temper in this regards, something Hime has been working on taming.

FAVORITE COLOR (Optional): brown and silver

FAVORITE FOOD (Optional): unagi kabayaki

FAVORITE ELEMENT (Optional): Earth

FAVORITE SUBJECT (Optional): phys ed and music

LEAST FAVORITE SUBJECT (Optional): home ec and math

ANIMAL THAT BEST REPRESENTS HIM/HER (Optional): lion

LIKES: cute girls, flirting with girls, sports, fighting, playing music, writing romantic poetry

DISLIKES: guys hitting on her (note: not boys in general, she has lots of boys who are freinds), homework, studying, strict teachers

DREAMS/WISH (Optional): to become a top song writer, marry Hime

BOYFRIEND/GIRLFRIEND/SECRET CRUSH (Optional): Hime (Cure Princess)

HOBBIES (Optional): rock band, used to date lots of girls but now she spends most of her free time with Hime


- CHARACTER'S FAMILIAR/GUARDIAN/FAIRY PARTNER -

NAME OF ANIMAL/CREATURE FRIEND: Ribbon and Glasan (see the other Happiness Charge girls for more details)


- CHARACTER'S FAMILY -


MOTHER'S NAME (Optional): Mamoru Akechi

FATHER'S NAME (Optional): Mamoru Tatewaki

BROTHER'S NAME (Optional): Mamoru Shinichi and Mamoru Niko (both older)

HOME PLANET/COUNTRY (Optional): Japan, Earth


- CHARACTER'S HISTORY -

PAST HISTORY:

Mamoru Makoto came from a family of Martial artists, whose family origins begin in Osaka. She grew up the youngest of three children, the older two being boys. She hence grew up being quite boyish and eventually as the years went along, she began the tomboy of her classes, and in some cases, girls and boys often mistook her for a boy. She was average in some subjects, but very good in others..and managed to turn herself into quite the devlish rogue, one that Don Juan would have been proud of.

However, every suave swashbuckler has a girl that captures his heart and changes him, and for Makoto that girl was Hime-chan. She began to date Hime, before Hime even realised her true gender. When she found out one day (by finding her showering in the girl's changing room), Hime ran off broken hearted, making Makoto deeply regret not being more forward about her true gender. However a sign of her love, the next day Hime gave Makoto her love ball as a sign of still wanting to be her friend, reuniting the two as a couple. Two days later, Makoto saw Hime and the other Happiness Charge Cures in serious danger. Something really tugged at her heartstrings about this..and she found herself worried about their safety..but most of all the safety of Cure Princess. Wanting to protect Cure Princess, she held the ball to her heart causing her to become Cure Shield.

Despite her rocky start with the group, Makoto's gregarious nature soon made her friends with all the Happiness Charge girls, and even Seiji, who she often spars against now.

GOALS/MISSION: To one day marry Hime and help her rule her Kingdom, to run her own martial arts dojo.


- OTHER –

CHARACTER IMAGE LINKS (Optional):

http://ami.animecharactersdatabase.com/uploads/chars/4758-1121794145.gif

http://neoapo.com/images/character/17475/b6de405e8f9c2ed3db76bdec9d800d2a.jpg

http://cdn.mydramalist.info/images/chars/4932.jpg

http://m.chuing.net/mai/img_character_main/2/337229295948.jpg

http://blog-imgs-36.fc2.com/v/n/r/vnr2034/20120129101852b40.jpg
Monarch








Posts

: 23


Join date

: 2015-01-11


Age

: 46


Location

: Malaysia





Similar topics
---
Permissions in this forum:
You
cannot
reply to topics in this forum